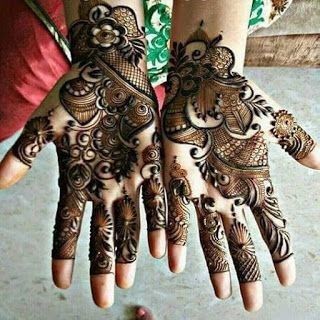 Finger Mehndi Design and Simple Mehndi Design As the festive season arrives, mehndi is the top selection by all women. Not only at the wedding but also at Eid, every girl and women decorate their hands full of mehndi. Specifically, in Pakistan Eid and wedding is incomplete without mehndi.
Not only women but also men adore a hand full of mehndi along with gajras. It has a beautiful combination. Every woman looks for the beautiful design of mehndi and they search for different styles of mehndi on the internet.
But a beautiful mehndi design is incomplete without a finger mehndi design. Not only palm but finger mehndi also complement your entire henna look. It should be drawn neatly.
As everyone knows that if your finger mehndi is not drawn neatly it can destroy the overall mehndi look. But if you make finger mehndi neat, it will enhance your overall mehndi. Not only this but a mehndi is also incomplete without finger mehndi. That's why everyone searches for beautiful finger mehndi styles. Now let me show you some of the beautiful and faltering finger mehndi styles.
Mesh Finger Mehndi Design
This mesh finger mehndi style is the top trending fashion. Although a traditional style still hits on another level. It looks very elegant and enhances the overall henna look. It is also known as jaal style. While designing your hands with henna many people are confused that what to draw on their fingers. But if you search on the internet for finger design it will show you mesh or jaal finger design as top trending.
It is easy to draw as it can give a heavy mehndi look to your finger. Your finger is all covered with this jaal dar mehndi style. It easily goes with every mehndi style from simple mehndi style to mandala. It can easily compliment all henna style.
Bridal Mesh Mehndi Fingers
Because of its traditional and heavy look, most brides prefer mesh or jaal dar finger mehndi style. It can effortlessly create a heavy look on mehndi designs. It can give your hand a beautiful and mesmerizing look.
A hand full of mehndi with daal dar design and red nail polish with beautiful gajras along with bridal lehenga can give your wedding a dreamy and mesmerizing look. It can give your hands a complete look for those who love heavy mehndi styles.
Bridesmaid Mesh Mehndi Finger design
Not only the bride but the bridesmaid are also excited about the wedding. As they also love this jaal dar finger mehndi style. They also love a hand full of mehndi, and the jaal dar desiand is the best. This design is perfect as a wedding mehndi design.
Full hand Mesh mehndi design
This jaal dar or mesh finger mehndi design is very trendy. Not only fingers but people also love full hands with mesh or jaal dar mehndi design. It looks very attractive. As it is easy to draw and has the ability to capture the attention of all.
It is an eye-catching style that gives you an elegant look. Many bridesmaids love this mehndi design. It might look simple yet elegant. This mesh mehndi design can easily draw all attention to your hands. This design is also known as Arabic mehndi design, which is very popular in the Arab world.
How to draw mesh finger mehndi design
It might look very difficult to draw but it is very easy. You just have to make criss-cross lines in your fingers or hands, with the floral or leafy ending. It looks very beautiful and attractive. If you wear red nail polish along with bangles or gajras with this mesh finger mehndi design, it will add a touch of tradition and class to your entire look. It can easily make a simple mehndi to a bold mehndi look.
You need not be a professional to make this design. Anyone can make this beautiful design, all you need is just attention and straight criss-cross lines, and you can go with floral or leafy or dots ending on this design.
This finger mehndi design looks very beautiful on hands. Not only brides even every woman who loves heavy mehndi design should go for this traditional mehndi look. This mesh finger design has an eye- catching look.